When it comes to choosing flooring, durability is often a main consideration. We need wood flooring to resist scratches from dog nails, carpet to resist wine stains and tile to resist discoloring, to name a few scenarios.

But which options should you choose to keep your home looking clean and new? Here's our guide to understanding different types of durable flooring and which are best at protecting against stains, scratches and water.


Carpet
There are many different types of carpet out there that claim to be supremely durable and stain resistant. But how do you sort out what's true and what's false about these claims? First, it helps to know how stain resistant carpet works.

Some carpet fibers are inherently more stain resistant than others. Nylon, for example, is commonly considered an easy-to-clean stain-resistant fiber, but it has limitations. Nylon can allow spills to permanently attach to dye sites in the carpet, making it difficult to remove some stains.

Any carpet, no matter the fiber content, can also be chemically treated to become more stain resistant, but a truly stain-resistant carpet goes much deeper than just treated fibers.

For the best stain resistant carpet options, look for fibers that are constructed without dye sites, like Mohawk SmartStrand carpets. Permanent protection is built into the carpet fibers, preventing stains from chemically bonding to the carpet, so the carpet is easy to thoroughly clean and resistant to even the most stubborn of stains.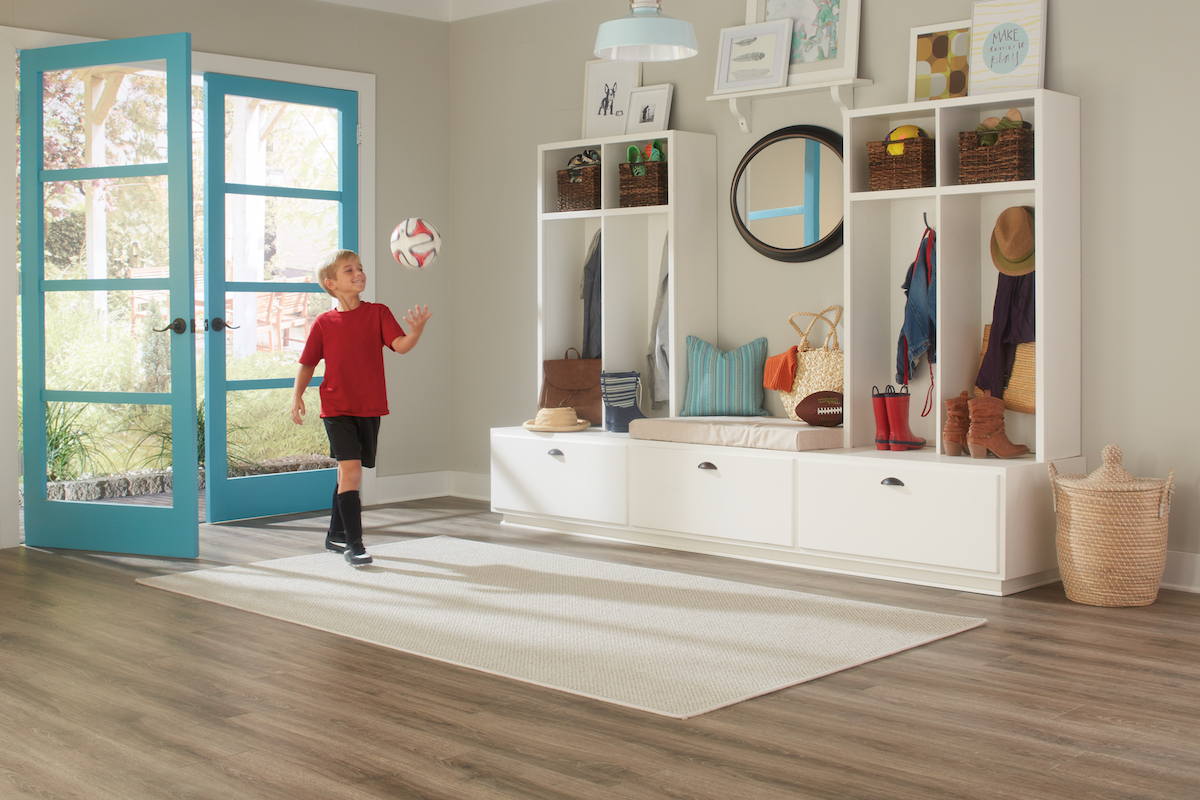 Hardwood
Hardwood floors are sometimes overlooked when it comes to the search for durable flooring. Typically, scratches, scuffs and other signs of wear are the main concerns for hardwood floors. Staining and discoloration could also be big problems with certain types of flooring.

If you want to add hardwood floors to your home, but you have pets or active family members who are hard on flooring, there are a few key factors to keep in mind. First, choose a harder species of hardwood, like hickory or maple, which are more durable. The harder the wood, the more resistant it will be to staining and discoloration as well. Also, look for lower gloss finishes and consider rustic designs to help hide wear.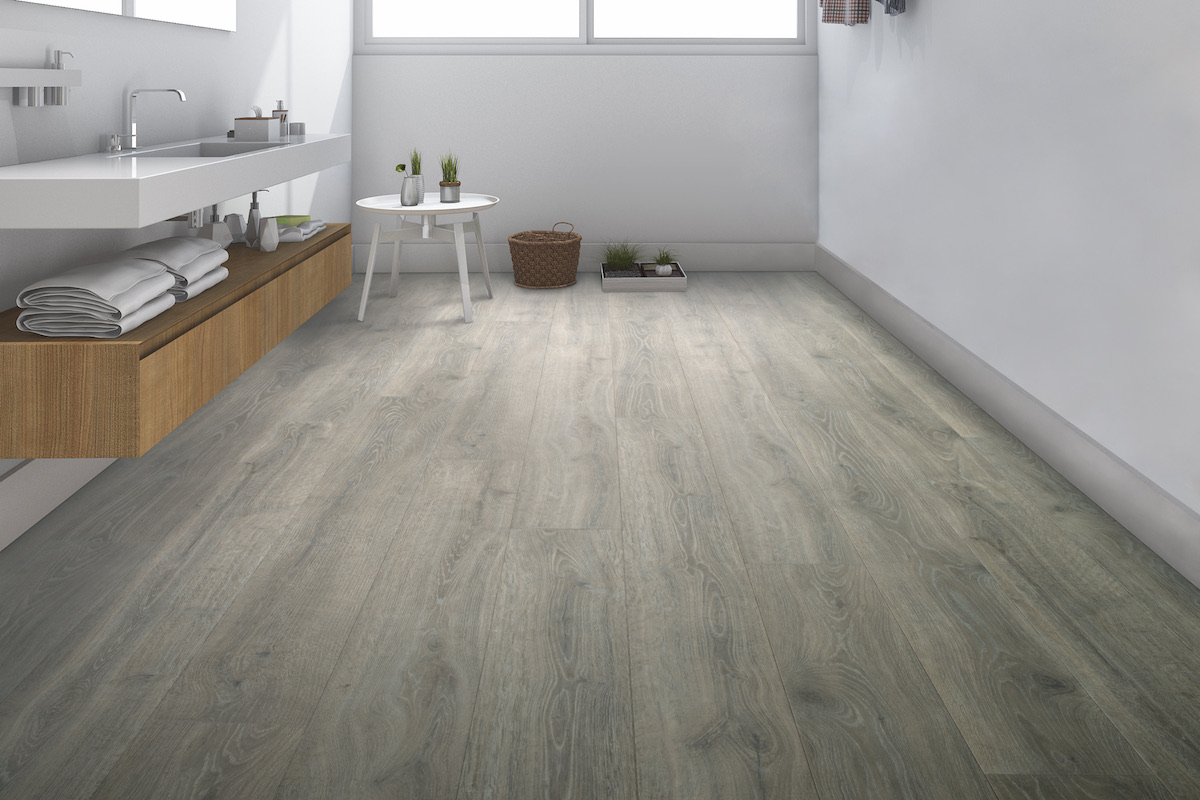 RevWood Plus
RevWood Plus laminated wood flooring from Mohawk is also highly durable. Although it may be indistinguishable from hardwood at first glance, its advanced construction makes it suitable for more areas of the home. In fact, RevWood Plus provides a waterproof system that can even withstand the moisture in bathrooms and kitchens.

RevWood Plus's protective wear layer makes it incredibly durable, scratch and stain resistant, so it offers a wonderful solution for pet owners or active families with children.


Vinyl
Vinyl flooring is sometimes confused with laminate flooring, but it's about as different as you can get. Although vinyl flooring may look like wood, it contains zero wood, making it inherently more water resistant. High-quality options, like Mohawk's SolidTech Plus rigid vinyl flooring is extremely durable as well, resisting scratches, scuffs and staining.

Sheet vinyl comes in large rolls that are laid across the room and cut to size, whereas luxury vinyl planks and tiles snap together or glue down for easy installation. Some vinyl tiles can even be used with grout to give them an incredibly realistic tile or stone appearance.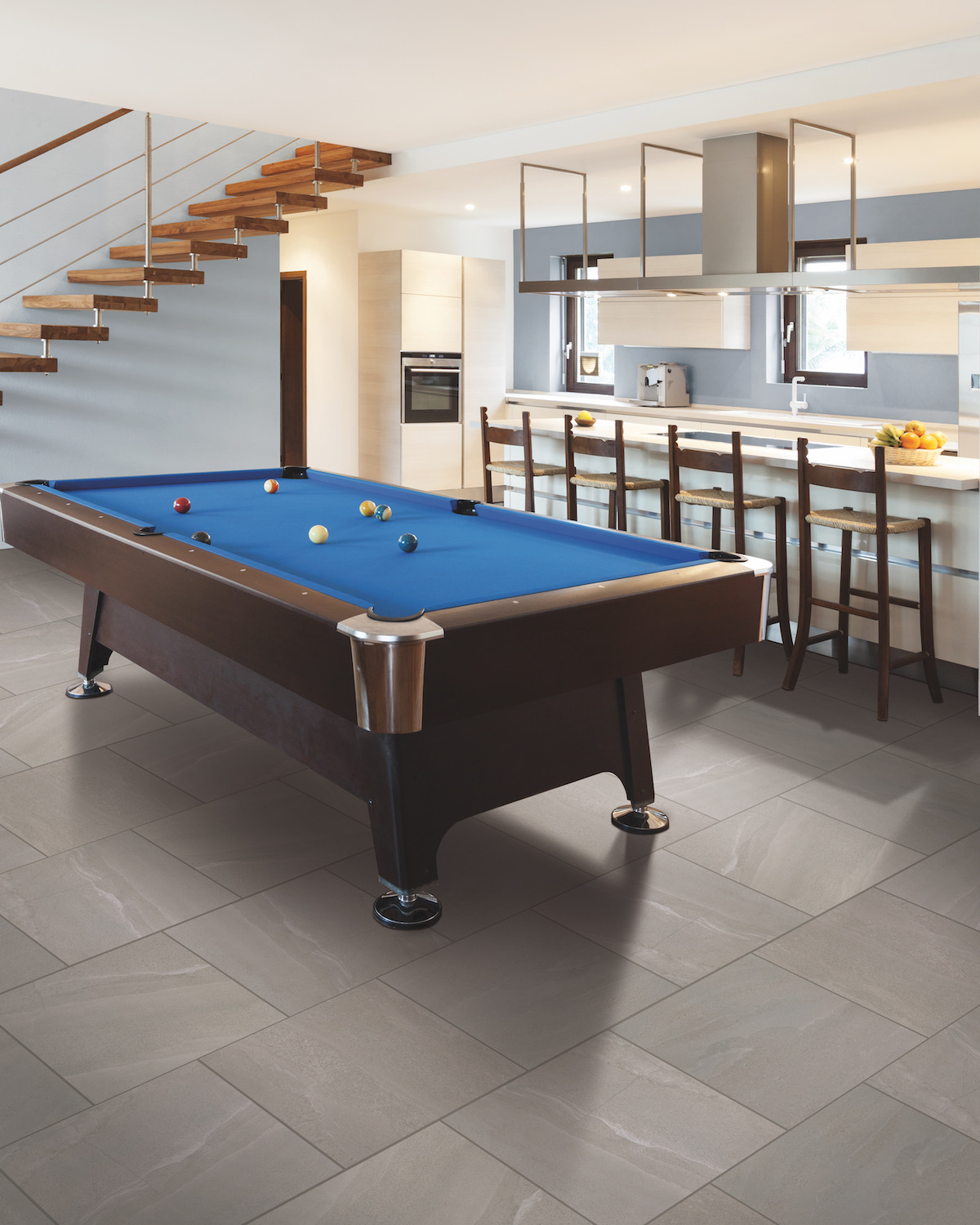 Tile
The ultimate option in durability, tile flooring is almost impenetrable when it comes to moisture and other types of staining. Tile is fired at high temperatures during the manufacturing process, resulting in an extremely hard, scratch and stain resistant material.

Tile's exceptional ability to withstand staining from a variety of sources contributes to its popularity for use inside and outside of the home. Like vinyl flooring, tile is almost impervious to scratches and dents that could eventually lead to discoloring and staining of the tile.

Some tiles have enhanced durability technologies, like Mohawk's Microban technology, that won't ever wash off or wear away. It protects your tile against any mold or mildew that could possibly build up within your flooring. Unlike many other treatments, this technology is actually infused during the manufacturing process, ensuring that your tile will look like new for years to come.

What kind of stain-resistant flooring are you adding to your home? Browse our online catalog.